已加入

2009/02/05
訊息

958
互動分數

0
點數

0
Google Nexus 4 and Nexus 10 Performance Preview
Earlier this week
Google announced two new flagship Nexus devices
: the Nexus 4 smartphone and the Nexus 10 tablet. We received review samples of both earlier this week, and while we're hard at work at full reviews of the devices we couldn't help but share all of the test data we've been able to amass at this point.
For those who aren't familiar with it, the Nexus 4 features Qualcomm's Snapdragon S4 Pro SoC - a quad-core 28nm Krait CPU with Qualcomm's next-generation Adreno 320 GPU. The combination proved quite formidable in the MDP/T we tested, as well as LG's recently announced Optimus G. The SoC drives a 4.7-inch 1280 x 768 IPS display and is paired with 2GB of LPDDR2 memory. The Nexus 4 ships unlocked with 8GB of NAND for $299 without a contract ($349 for the 16GB version). Pair that with DC-HSPA+ support and you get an absolute killer smartphone for use on T-Mobile: no contracts, very low monthly fees, and compelling cellular performance: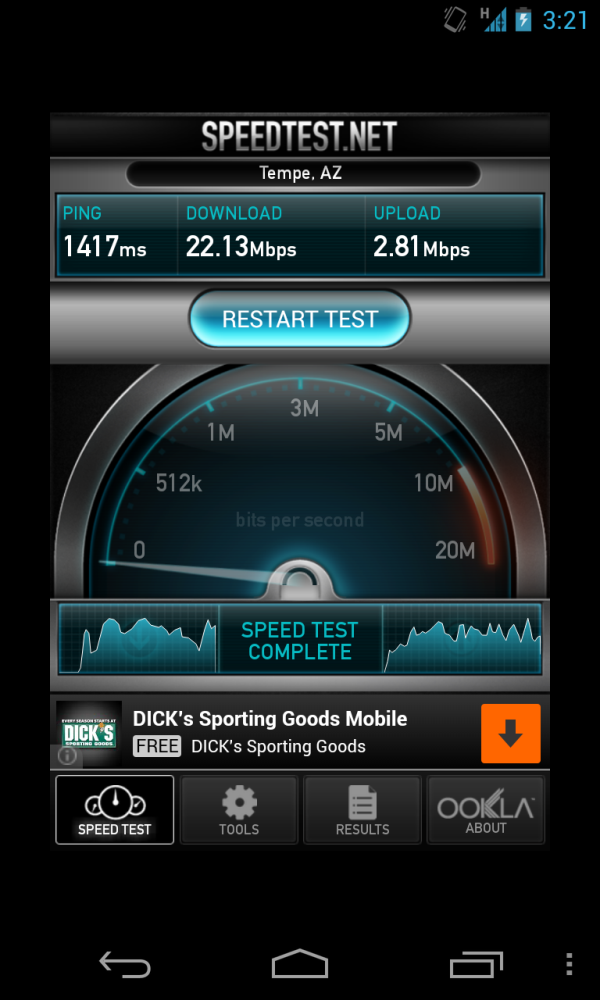 ​
Brian will talk more about the combination in his full review, but rest assured that the lack of LTE is workable depending on T-Mobile coverage where you live/travel to.
The Nexus 10 also boasts a brand new SoC: Samsung's Exynos 5 Dual. The Exynos 5 Dual features two ARM Cortex A15 cores running at 1.7GHz as well as ARM's own Mali-T604 GPU. This happens to be the exact same platform used in the new Chromebook, just running Android. The Nexus 10 features a 10.1-inch 2560 x 1600 display, giving it the same resolution as the 13-inch MacBook Pro with Retina Display - but in an even smaller form factor. Google is also aggressive on Nexus 10 pricing: the 16GB WiFi-only tablet sells for $399, with the 32GB version going for $499.
Both Nexus devices run Android 4.2 and are guaranteed to be the first devices to be updated to upcoming Android revisions for the foreseeable future (it's the power of Nexus).
We haven't had a ton of time to test the devices and put this together so you're going to see combined performance charts throughout the rest of this article. Read on for our quick analysis!
Source:
http://www.anandtech.com/